From our environmental stewardship activities and advanced materials that support lighter-faster-greener product applications to our work with local organizations, Rain Carbon and our employees are committed to enhancing the quality of life.
Rain Carbon Inc. (RCI) is committed to a sustainable environment and promotes the harmony of humans with nature in the objective of maintaining the ecological, social and economic well-being of future generations. We support sustainability across all these principles.
Our carbon- and coal tar-based materials begin as the byproducts of other industries. We use science and engineering to transform them into essential ingredients for a wide range of industrial processes and products. And by extracting additional value from these industrial byproducts rather them letting them go to waste, we're not just recycling -- we're "upcycling."
Elsewhere, RCI has strategically invested in our state-of-the-art calcination facilities so that they not only co-generate renewable energy as a by-product from energy used to produce our products but also to reduce direct emissions. Providing our renewable waste-heat energy production to others means that outside power producers can produce and emit less, which offsets greenhouse gas emissions. Our distillation facilities are operated with the goal of the highest energy efficiency and lowest possible emissions. Our calciners and distillation facilities take, as raw material, the by-products of other industries which may otherwise be burned as fuel. Instead, our operations convert them into materials (calcined coke and coal tar pitch) essential worldwide to the production of aluminum, the light weight metal of choice for recyclability and in reducing transportation greenhouse gas emissions. RCI brings this same principle of ecology to our other products such as our CARBORES® line of products. Together these efforts and our downstream product benefits bring RCI to carbon neutrality to the greatest extent possible.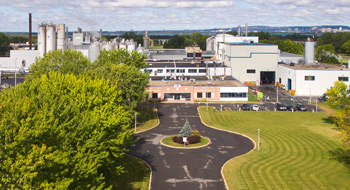 Socially, RCI supports the local communities in which we live and work, by promoting social programs and community participation. Our employees regularly give their own time to community activities, RCI policy encourages our employees' participation with financial support. This is in addition to the financial support we provide through established governmental and private programs.
In the USA, RCI partners with local schools in supporting food banks and volunteer coaching. For more than two decades we have donated to the United Way through a matching program with our employees; this has contributed more than US$1 million in assistance and aid to our local communities.
In Europe, through the RÜTGERS Foundation based at our Castrop-Rauxel site, RCI supports scientific endeavors such as research, working groups and project days for all age groups. This foundation has been supporting over 10,000 students at more than 300 schools all over Germany in the last 15 years and representing a contribution of more than €1.25 million.
In India, RCI supports the Pragnya Priya Foundation, a non-profit organization which grants donations to economically challenged and needy areas to meet educational needs, provide medical treatments and for many other charitable purposes. The foundation operates through numerous schools, colleges, libraries, reading rooms, universities, laboratories, research and other institutions.
Economically, RCI brings benefits to numerous enterprises in our communities that support our facilities as contractors, to our employees, to governmental agencies and to our business partners who participate in our place within the world's supply chain of the materials we ultimately bring to market. In fact, our apprentice training programs in Germany not only support our own need for skilled employees, but many participants go on to other surrounding industries with the skills attained. It is our aim to ensure as a matter of principle that we act in compliance with applicable laws and regulations and also with a common code of moral conduct. We uphold that the only way to drive forward sustainable and profitable growth is to ensure that successful performance goes hand in hand with ethical behavior.
Rain Carbon Inc. recognizes its important role in all of its activities in promoting a more aware global community which must continuously and proactively strive to achieve ever higher degrees of sustainability.